Details
Quantity discount
Opinions
Details
PSF-B Series 1-4 Gang Ultra Low Power ESP8285 Wi-Fi Switch Module:
ESP8285 Chip: Ultra-low-power Wi-Fi switch module series based on ESP8285.
4 Gang Switch Control: Used as a switch control for 1-4 household appliances. Either it can be controlled by the device button, or remotely controlled by connecting to APP (eWeLink)
Specially designed for mobile devices and Internet of Things applicationsl: With the most competitive package size and ultra-low energy consumption technology in the industry. PSF-B series connect users' devices to the Wi-Fi wireless network for remote or local area network communication to achieve networking.
Various packaging methods: Widely used in smart grid, smart transportation, smart home, handheld devices, industrial control and other fields.
Additional information:
Model: PSF-B
Main chip: ESP8285
Hardware interface: UART, GPIO
Key Features:
Built-in 32bit MCU, and can double as an application processor
Support wireless 802.11 b/g/n standard
Wi-Fi @2.4 GHz, support WPA/WPA2 security mode
+20.5dBm maximum output power in 802.11b mode
Support device button control and Wi-Fi remote control


In the normal state: click the button (IO0 pulls down for more than 100ms) to control the relay on and off (IO12 output high/low level
In the pairing mode: click the button to exit the pairing mode.

Support timer schedule - including single, count down, repeat, and loop timer, see details in 4.5.
Support compatible pairing mode /quick pairing mode
Power-on status -The power-on switch status can be configured on or off through the APP, and the default power-on status is off.
Support OTA upgrade
Electrical Characteristics:

Rated parameters:
Conditions: VDD=3.3V±10% , GND=0V; test at room temperature 25°C.
Operating Voltage: 2.7V~3.6V
GPIO drive capability: Max: 12mA
Working current: Average current: ≈80mA ,
Maximum working current: 210mA
Standby: <200uA
Operating temperature: 0℃~45℃
Storage condition: Temperature: -10℃~75℃ ,
Relative humidity: 20%RH~80%RH
Wireless network type: STA/AP/STA+AP
Encryption mechanism: WEP/WPA-PSK/WPA2-PSK
Encryption type: WEP64/WEP128/TKIP/AES
Firmware upgrade:OTA remote upgrade
Wi-Fi parameters:
Conditions: VDD=3.3V±10% , GND=0V ; test at room temperature 25°C.
Wireless standard: IEEE 802.11b/g/n
Frequency range: 2.412GHz-2.484GHz
Transmit power:


802.11b: 20±2dBm (@11Mbps)
802.11g: 17±2dBm (@54Mbps)
802.11n: 14±2dBm (@HT 20, MCS 7)

Receiving sensitivity:


802.11b: -91 dBm (@11 Mbps, CCK)
802.11g: -75 dBm (@54Mbps, OFDM)
802.11n: -72 dBm (MCS7)

Antenna type:Ceramic patch antenna
Tips: If you want to know detailed product features, WIFI radio frequency marking, PCB design, package information, module type and pin definition, please see the product application guide.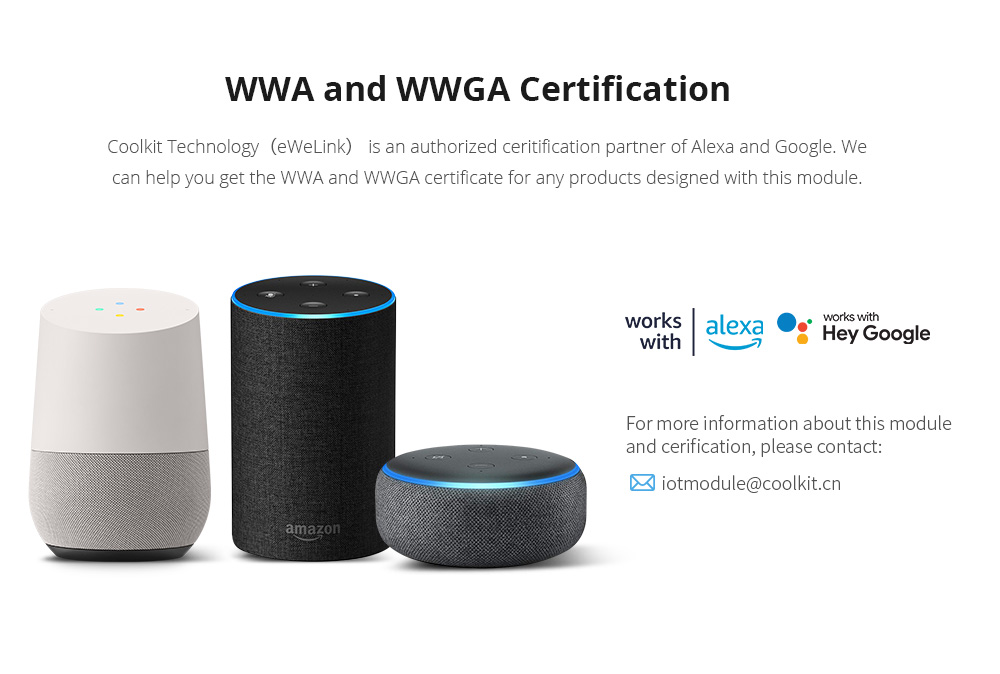 Quantity discount
Quantity
Discount
Product price
1 pcs

more than

less than

5 pcs
-
3.47 €/pcs
5 pcs

more than

10 %
3.12 €/pcs
Opinions
Be the first to review this product!